When it comes to your business you always want what's best. You want your website to look great and unique. You always want to stand out from the crowd of competitors in your area so that you get more customers. These are all achievable with today's plethora of options for web design and development. One of the options for you is to use a Content Management System.
---
What are Content Management Systems ?
Most businesses don't have in-house programmers that can write HTML, CSS and other markup languages for writing code on their website. Furthermore, it's a tedious process to write code even if a business owner or employee was technically knowledgeable. Without content management systems, users would need to upload static files, modify them in a code editor, upload image files in a separate file transfer protocol, etc.
Would you rather be caught up in trying to figure out how to apply different styles and the correct HTML tags on your homepage rather than manage your business? The answer is no, people don't have time for the nitty gritty of their website if they have an option not to. Wouldn't you rather have your site's software do most of the background styling and coding for you?
The idea is for people to focus more on the important things they need to do for their business and to have a time-efficient way of doing what needs to be done, and that includes providing your website its content.
Content Management Systems (or CMS for short) help users create, manage, and modify website content without the need for specialized technical knowledge. These are mostly web-based software products that are designed to make it feel like you're just writing on your favorite word processor like Microsoft Word when you're creating content for your website.
Most of the time you have the familiar buttons for text formatting like bold, italic, justified, centered etc. and sometimes you have drag and drop user interfaces, like for uploading and placing images. The goal is always to make it easier to create and update your site's content with as low a learning curve as possible.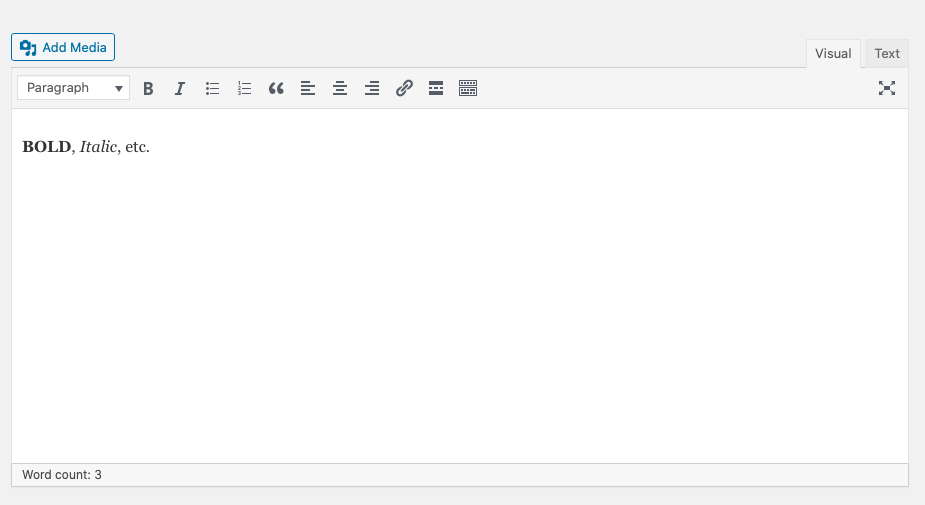 ---
Types of Content Management Systems
There are many kinds of content management systems. I tend to make two distinctions, self-hosted and non-self hosted.
A. Non Self Hosted Platforms :
Sites such as Squarespace and Wix fall under this category. These are site creators that are hosted in the provider's server, meaning you don't have full access to the server. You have limited functionality depending on the site's capabilities.
Squarespace and Wix fall under a subcategory I would describe as Simple Site Creators. Nowadays these simple site creators may tend to be robust. They more or less have site builders that have drag and drop functionality and WYSIWYG (What You See is What You Get) features. Many of the sites generated by these platforms tend to look alike, with very limited styling options.
The other subcategory is the Complex Site Creator. Examples of these platforms are sites such as Nationbuilder. This one in particular is used by a variety of political groups, non-profits etc. with specialties in handling social media campaigns, setting goals and doing creative interaction with a userbase, to name a few. These kinds of platforms have certain goals and workflows in mind that are more suitable for certain niches.
What you don't have in both Simple and Complex kind of platforms is the ability to break through from any of the limitations the site has. All the software here is pre-built with no backend access to the code itself. While you can request for new features, it is rare to be granted them instantly. What you do have is a relatively easy to use user interface because of this lack of extendable functionality. Depending on a user's circumstances, these can be a good option for launching their site as things are kept simple and limited.
B. Self Hosted Platform :
We usually recommend this type of content management as self hosted platforms like WordPress or Drupal can be extended with a wider variety of plugins/modules that give users more flexibility. Users have a choice of Search Engine Optimization, Caching, Security and Image Manipulation plugins for instance. For each of them thousands of plugins are available to add as needed in their own marketplaces.
With regards to full functionality, the user and the developer have control. We at CRS Consulting offer both hosting and customization. This allows us to have total control into the platform and the ability to do changes as needed.
Since the software's code is editable, if you want any additional features not provided by plugins we are able to add them in a relatively shorter amount of time than with Non-Self Hosted.
---
The Right Content Management System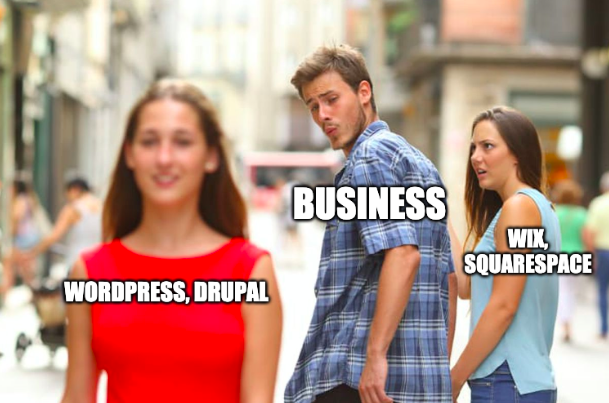 To choose the right content management system for a business we analyze our client's needs. Typically we do WordPress and Drupal sites, but if they need specialized features sometimes platforms like Nationbuilder are more feasible.
When using WordPress for example, we can create a wide variety of site types, from simple brochure sites to complex eCommerce sites. Approximately 30% of the web is made up of WordPress sites, so the plugins and features are numerous. There is a cohesive and formidable WordPress community with lots of support.
With larger enterprise level clients we usually use Drupal, which has a steeper learning curve but robust features. The Whitehouse site for example is a well known user of Drupal. National Women's History Museum is another example of a large site that uses Drupal.
There are several factors in choosing the right content management system. It is not a cut and dry process. We offer our clients FREE CONSULTATION to be able to choose which platform suits them best. Our decades of experience in web development helps tremendously in this aspect. Contact us for more information.